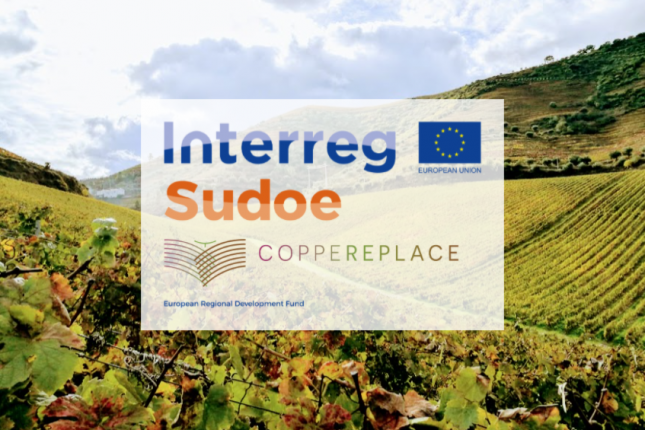 COPPEREPLACE, an International Project that will reduce copper use in vineyards
GreenUPorto and other partners from Portugal, Spain and France will work on this R&D + i Project, financed by the Interreg SUDOE program which provided over 1 million euros
17.02.2021.
GreenUPorto integrates the consortium of 13 institutions from Portugal, Spain and France from the wine sector, which are joining forces to significantly reduce copper use in viticulture, thus decreasing the environmental impact in wine production.
COPPEREPLACE is a R&D + i Project led by the Spanish Wine Technological Platform and financed by the Interreg SUDOE program, an innovative initiative which focuses on providing integrated and sustainable solutions, aligned with eco-friendly production methods in Europe. In this regard, COPPEREPLACE will be developed from November 2020 to February 2023 (28 months), and counts with a solid international consortium composed by ADVID (Associação para o Desenvolvimento da Viticultura Duriense, Portugal), the French Institute of Vine and Wine (IFV, France), the Portuguese company Sogrape Vinhos, the technology company CVAN (Centro de Valorização Ambiental do Norte), Universitat Politècnica de Catalunya (UPC-UMA), Vignerons Bio Nouvelle Aquitaine (SVBNA; France), EURECAT Foundation (Spain), the Familia Torres Foundation (Spain), University of Porto (GreenUPorto), University of Vigo (Spain), LBS (the Gérard Bertrand Group; France), the company Jean Leon (Spain) and the Spanish Wine Technological Platform, in the lead. Moreover, the consortium counts with the support from the consultancy agency Artica Ingeniería e Innovación (artica+i) as the project´s technical office, providing support in the development as well as in the technical-economic monitoring and justification of the Project.
COPPEREPLACE will create a stakeholders network which will integrate growers and other players of the viticulture international sector, with the objective of involving all agents interested in the project so that they can contribute with knowledge and experience.
The Project has a total budget over 1.6 million euros and has received more than 1 million euros from the Interreg SUDOE financing program.
For more information about COPPEREPLACE, you can visit the Project website here.