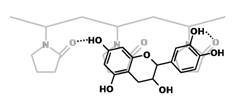 Xanthohumol bound to PVPP


Topics of QuAQuA's current and recent research:


Electroanalytical analysis, namely square-wave voltammetry, of relevant biological compounds.

Chromatographic analysis of several compounds by HPLC-UV, HPLC-FLD, LC-ESI-MS/MS and GC-MS in several food matrices.

Development of new sampling systems with particular emphasis for volatile and semi-volatile analytes.

Development of new automatic flow-injection analysis (FIA) systems with electrochemical instrumental detection.

Analytical, industrial and biochemical studies of several compounds in beer aiming to improve its routine control, its organoleptic proprieties and to make advancements in brewing science.

Extraction of natural antioxidants from by-products/residues of the food industry and further application in food, cosmetic and pharmaceutical products.

Analytical control of off-flavors in beverages, with particular aim in beer and wine.

Analysis of natural antioxidants and the effects of their presence in food.



Extraction

of

pectic

polysaccharides

of different

fruits and analytical

characterization

of its total content sugars by

HPLC

-

UV

-

FLD, detection and the degree of esterification by GC-FID analysis.

Membraneless extraction module


2',4'-dihydroxy-6'-methoxy-chalcone
2-furaldehyde
4-ethylguaiacol
4-ethylphenol
5-hydroxymethyl-2-furaldehyde
accumulation
acetaldehyde
acetaldehyde derivatization
acetylcholinesterase
AChE
acidic sugars
adsorbed species
adsorptive stripping voltammetry
adsorptive voltammetry
adducts
advanced glycation end products
aldehydes
aliphatic amines
Alpinia
ammonia and hydrazine
determination
amperometric detection
analysis method
analytical method
anodic stripping potentiometry
anodic stripping voltammetry
antioxidant activity
antioxidant defense system
antioxidant properties
antioxidants
antiradical power
anthocyanin
anthocyanin-pyruvic acid
anthraquinone monosulfonate
anthraquinone dyes
analysis
arsenic
ascorbic acid
ASV
automation
azorubine
barley
beer
beer aging
biomarker
biomarkers
biomonitorization
brandy
Brett character
brewer's spent grain
brewing
butane-2,3-dione
butter
cadmiun
callus tissue
carbonyl compounds
cardamom
cardamonin
cathodic stripping voltammetry
Cd
cell wall
cerveza
chalcone
Chimassorb 944
citalopram
clinical analysis
copper
corks
cosmetic
cosmetics
Cu
cyclic voltammetry
cysteine
damascenone
derivatization
diacetyl
diacetyl determination
diacetyl in brandy
dicabornyls in beverages
differential-pulse polarography
dispersive solid-phase extraction
DNA
DNA sensor
drug adsorption
drug dissolution
drugs
dye-sensitized solar cells
E-2-nonenal
edge plane pyrolytic graphite
electroanalysis
electrochemical techniques
electrochemistry
electrode
electrolyte concentration
electrochemical detection
electron microscopy
Elettaria cardamomum
enzymatic biosensor
ergocalciferol
ergosterol
ethanal
fast reductions
fermentation
fermentation performance
ferulic acid
flavan-3-ol
flavour stability
flow analysis
flow detection
flow-injection analysis
flow injection
flow injection analysis
fluorometric detection
fluvoxamine
food analysis
food and cosmetic colouring matters
food quality
free and total diacetyl
free phenolics
free sulfur dioxide
fruit juices
fuel ethanol analysis
furanic aldehydes
furfural
galacturonic acid
gas-diffusion microextraction
GDME
gelatin
geotextiles
glutathione-S-transferase
Glycyrrhiza glabra
guaiacol
hanging mercury drop electrode
heavy metal biomonitoring
health
high-performance liquid chromatography
HMDE
homogeneous liquid-liquid extraction
hop
hops
hormones
HPLC-DAD
HPLC-DAD/ESI-MS/MS analysis
HPLC-DAD-MS analysis
HPLC–ESI–MS
HPLC-ESI-MS/MS
HPLC-UV
hypohalite determination
InChIKey=NYSZJNUIVUBQMM-BQYQJAHWSA-N
insoluble-bound phenolics
isoxanthohumol
kilning
kilning temperature
kinetic enzymatic assays
lead
licochalcone A
licorice
Lineweaver-Burk plot
liquid chromatography
lúpulo
Maillard reaction products
malt
medicinal chemistry
membraneless extraction module
membraneless gas diffusion
melanoidins
metallothionein
metallothioneins
metallo-β-lactamase
method validation
methylglyoxal
methylpropanal
microwave-assisted extraction
MLEM
molinate
multi walled carbon nanotube
multiple linear regression
natural dyes
neutral sugars
neurotransmitter
nonenal
nonenal potential
o-phenylenediamine
oxalic acid
oxidation
oxidative stress
oxygen elimination
oxygen removal
p-aminobenzoic acid
p-AMBA
paroxetin
Pb
pectin
pharmaceutical analysis
pharmaceuticals
phase separation
phenolic compounds
photo-degradation
physostigmine
phytochemcial analysis
polarographic method
polarography
polifenoles
polyphenols
polyvinylpolypyrrolidone
proanthocyanidins
pro-oxidants
PVPP
pyrolytic carbon
quartz crystal microbalance
QuEChERS
quinoxalines
reactive accumulation
reduction kinetics
reduction of acetaldehyde
rice paddy field floodwater
roasting
RP-HPLC-FLD
Saccharomyces pastorianus
salinity
salting-ou assisted liquid-liquid extraction
sample preparation
salud
screen-rinted carbon electrodes
self-assembled monolayer (SAM)
sertraline
serum
SO2
spent hops
Solanum tuberosum
soluble ester phenolics
speciation
spectrophotometry
spinach
square-wave adsorptive-stripping voltammetry
square-wave voltammetry
SSRI
sulfite
sulfites
sulfur dioxide
sulphanilic acid
sulphites
surfactants
sterols
stripping voltammetry
sulfite
SWV
tablets
tartrazine
tetraphenylphosphonium chloride
total sulfur dioxide
triton X-100
thyroid
urinalysis
viability
vicinal diketones
vinegar
vitability
vitality
vitamin C
vitamin D
volatile analysis
volatile phenols
voltammetry
whisky
wine
wine dyes
xanthohumol
yeast
yeast physiological condition
yeast viability
yeast vitality
zinc
Zingiberaceae
Zn
α-diketones
β-damascenone
β-lactam antibiotic



QuAQuA - Química Analítica e Qualidade Alimentar
Requimte/LAQV - Departamento de Química e Bioquímica
Faculdade de Ciências da Universidade do Porto (FCUP)
Rua do Campo Alegre, s/n, 4169-007 Porto, Portugal
F: +351 220 402 659; P: +351 220 402 646; E: jarodrig(at)fc.up.pt

© R.M. Ramos, L.M. Gonçalves; last update: 06/September/2018