FREQUENTLY ASKED QUESTIONS ABOUT ATOMIC FORCE MICROSCOPY (AFM FAQ)

AFM Artifacts

by Peter Eaton

1. Tip Effects
Double/multiple tips

if the tip is broken, or contaminated, you can often get a "double tip" effect, where both the tip
and the contamination are scanning the surface.
See the example below.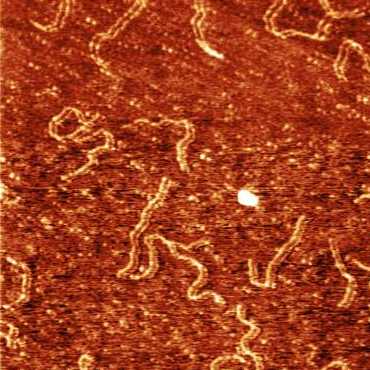 In the example above, each DNA molecule has a "twin", caused by the double tip.
How to avoid it.

Change the tip. Once a tip is broken, you must change it. If it is contamination, you MIGHT be able to clean it.
But most often, even in this case, you will have to change to a new tip.

Artifacts Index Page
*************************************
This document was written by, and is maintained by Peter Eaton (peter.eaton@fc.up.pt)
Reproduction or distribution not allowed without my permission.
Please feel free to email me comments / questions / answers.
Document updated on 19th March 2007.